Brick PAC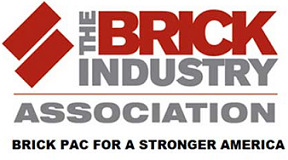 Legal Basis
BIA's Brick PAC, registered through the U.S. Federal Election Commission (FEC), raises personal, non-deductible contributions from eligible BIA members for disbursement to re-election campaigns of brick-friendly Members of the U.S. Senate and House of Representatives.
Bronze $1-249
Silver $250-500
Gold $501-999
Platinum $1,000+
Candidates Approved for Support in 2020
| House | Senate |
| --- | --- |
| Sanford Bishop(D., GA) | Joni Ernst(R., IA) |
| Bill Johnson(R., OH) | Shelley Moore-Capito(R., WV) |
| Jeff Duncan(R., SC) | John Boozman (R., OK) |
| Terri Sewell (D., AL) | Roger Wicker (R., MS) |
| Chrissy Houlahan (D., PA) | Joe Manchin (D., WV) |
| Lucy McBath (D., GA) | Mitch McConnell (R., KY) |
| Paul Tonko (D., NY) | |
| Kay Granger (R., TX) | |
| Bob Gibbs (R., OH) | |
| Buddy Carter (R., GA) | |
Example of a Fundraiser Supported by Brick PAC: Event for Sen. Joni Ernst (R., IA)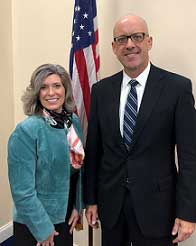 BIA's Brick PAC participated in an October 29 fundraising event for the re-election of Senator Joni Ernst (R., IA). In this assignment, Ernst provides legislative oversight of the EPA's work. Accordingly, Ernst is well-positioned to thoughtfully oversee the EPA's proposal of a final brick MACT rule. A member of the Senate committee on Environment and Public Works (EPW), Ernst is seeking a second term, having won the seat with 52 percent of the vote in 2014. BIA was represented at the meeting by Ryan Parker, president of Endicott Cla. Parker handed over the $2,500 contribution, and described to Ernst the brick industry's important role in Iowa, as well as the MACT rule's long history, and some of the specific ways in which brick manufacturers will suffer unless the rule is crafted in an appropriate manner. Ernst expressed appreciation for the brick industry's donation, and pledged her support. Ernst went on to arrange to make her staff available to BIA staff for collaboration after the rule is proposed. Ernst faces a difficult battle for re-election and said that successful fundraising will be difficult. Iowa is typically a difficult state in which a Republican Senator can win re-election. Earlier this Fall, a Morning Consult poll found Ernst's job approval numbers under water, at: 39 percent approve / 43 percent disapprove. While President Trump won the state in 2016 by nine points, Democrats are energized about their chances of success in 2020. First, the competitive Iowa caucuses for the Democrat presidential nomination have stirred enthusiasm and significant political spending on the left. Second, one of the Trump administration's policy positions – trade with China - is stirring economic concern in the Hawkeye State. Iowa farmers have seen reduced shipments of grain and other ag products. Determination of a Democrat opponent for Ernst will not be made until the primary election slated for June, 2020. BIA looks to urge industry support at the company/individual level for the Ernst campaign in coming months. And, BIA thanks Ryan Parker for his astute leadership on this BIA demonstration of support for the Ernst campaign.
Brick PAC Task Force Aims to Help Boost Member Participation
Earlier this Fall, five members of BIA's Advocacy Committee volunteered to serve on a task force to spur needed growth in Brick PAC. BIA thanks the following members:
Lincoln Andrews, Stiles & Hart
Brad Belden, The Belden Brick Company
Kevin Ham, General Shale
Ryan Parker, Endicott Clay
Joe Rice, Belden Tri-State Building Materials
The most significant impediment to BIA success in PAC fundraising is the failure of companies to initially sign the "prior approval (PA)" form required by the Federal Election Commission to authorize BIA to solicit contributions. Unfortunately, scores of member companies have thus far failed to grant to BIA this critically-important permission.
BIA Appreciates All Companies That Have Signed FEC-Required Prior Approval Form
| | | |
| --- | --- | --- |
| Alabama Brick Company | Belden Brick & Supply | Belden Tri-State Building Materials |
| Bowerston Shale | Brampton Brick | Cement Products |
| Chambers Brick | Church Brick | Clay-Ingels |
| Clay Structures | Columbus Brick | Custom Brick Company |
| Division 4 | Donley Brick | Economy Brick |
| Endicott Clay Products | General Shale | Glenwood Masonry |
| Glenwood Masonry Supply | Hebron Brick | Henry Brick |
| Illinois Brick Company | J.C. Steele | J&J Brick & Materials |
| Lee Brick & Tile | L. Thorn | Packer Brick |
| Potomac Valley Brick & Supply | Riverside Brick | Southern Clay |
| South Alabama Brick | Spaulding Brick | Statesville Brick |
| Tabs Wall Systems | Taylor Clay Products | Town & Country Brick |
| The Belden Brick Company | W.L. Tucker Supply | Whitacre Greer |
For more information on Brick PAC, and ways it helps defend the brick industry, contact Joseph Casper at (703) 674-0741 / jcasper@bia.org.
*Eligibility is limited to salaried and administrative employees of BIA member companies, whose CEO has signed the FEC-required 'Prior Approval' form. Contributors must be U.S. citizens. While BIA accepts contributions of any legal amount, acknowledgment at BIA meetings is afforded for contributors at the following levels: Bronze, Silver, Gold, and Platinum.