Thin Brick Council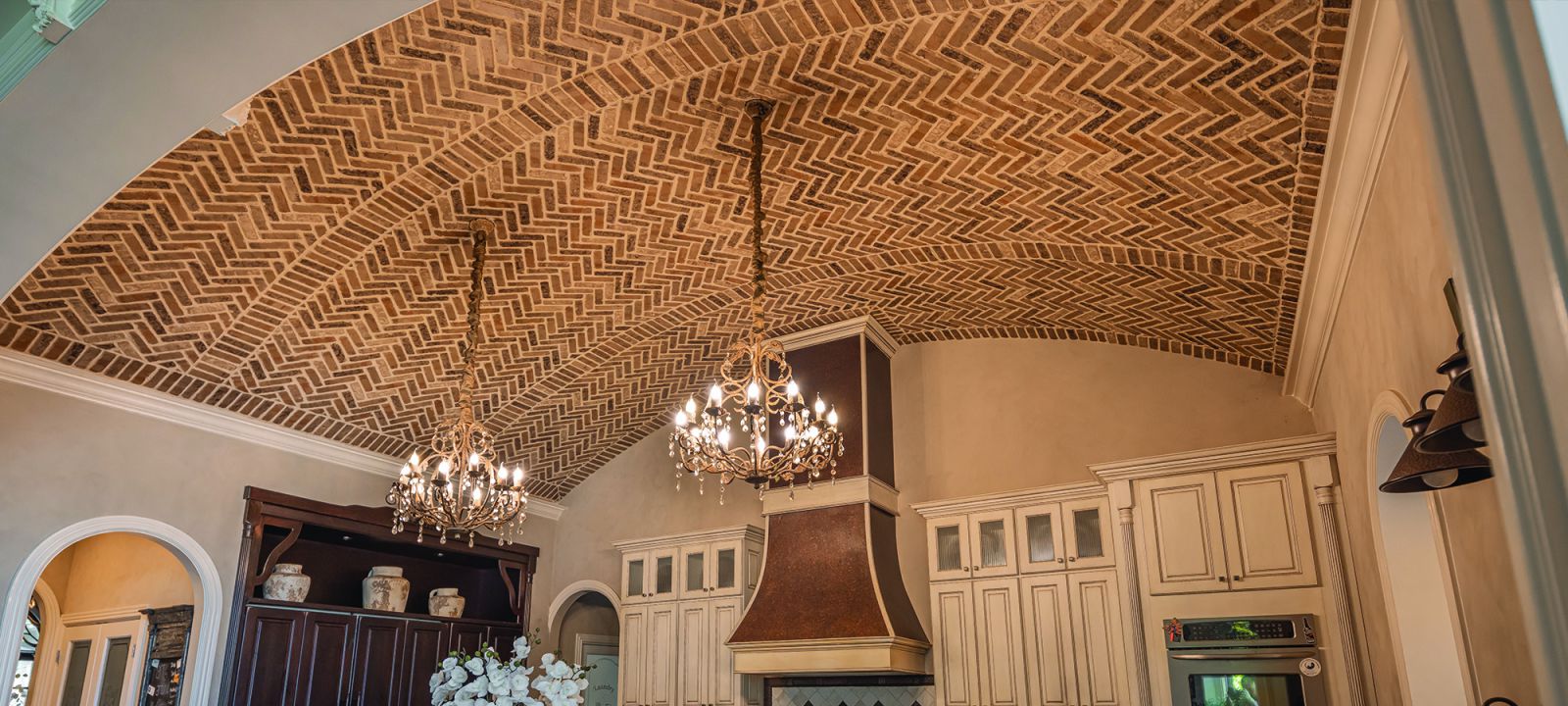 Brick companies offering thin brick solutions joined together to form BIA's Thin Brick Council to promote the benefits and range of uses of thin brick in both residential and commercial settings.
About Thin Brick
Thin brick are made from the same materials as modular brick, but are much thinner and weigh a lot less. Thin brick are very durable, low-maintenance, DIY-friendly. You can create a truly custom look with numerous thin brick color options. The mortar color you use also completely changes the final look, so play around with colors to design the perfect look. The possibilities are endless.
Beautiful and Practical!
Thin brick backsplashes and floors are easy to clean - just use soap and water! Thin brick have a minimum fire rating of one hour for both interior and exterior. Vinyl, stucco and other building products cannot withstand even 30 minutes of fire. Clay brick helps to prevent the spread of fire as it is truly non-combustible. Protect your home in fashion with thin brick.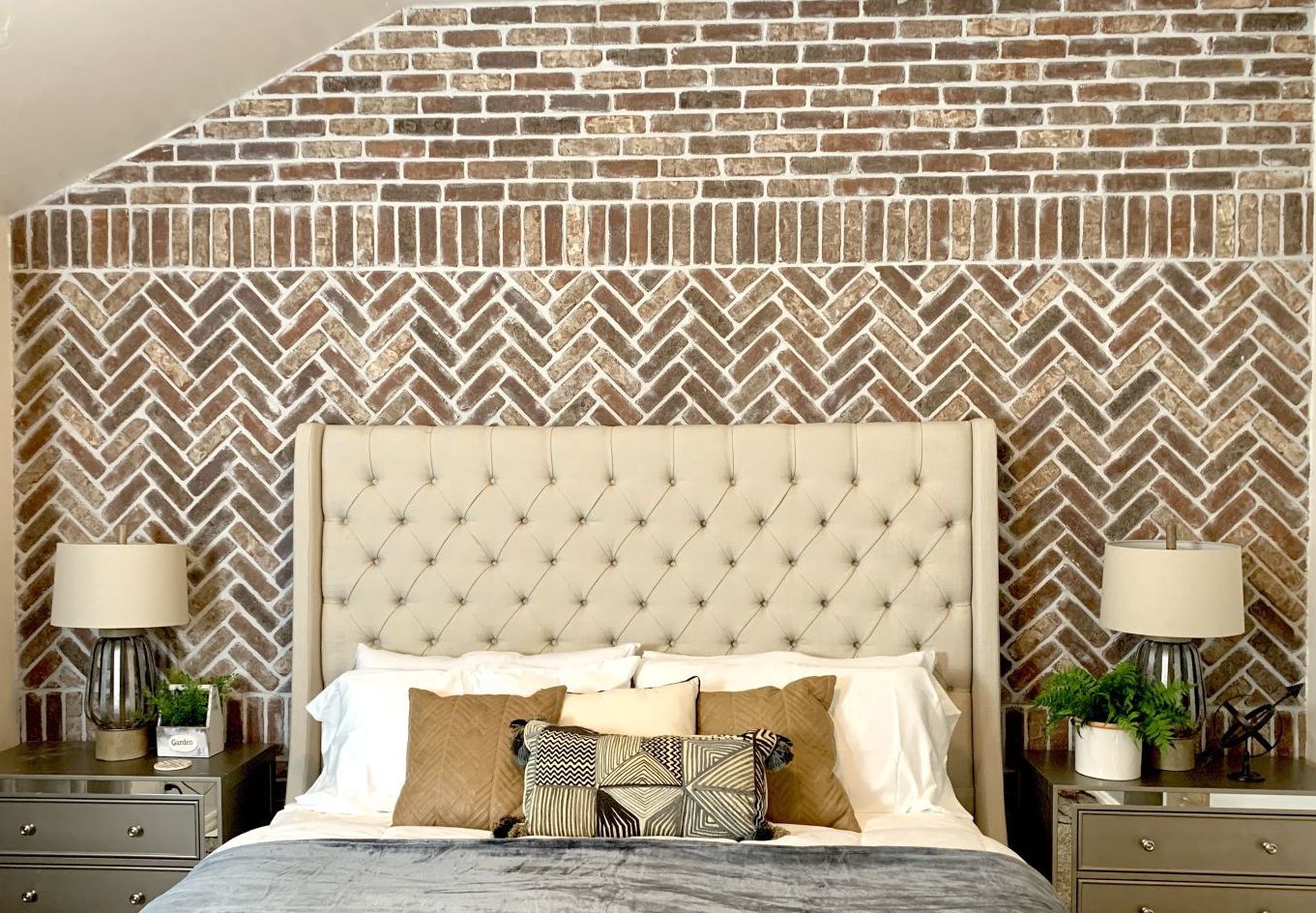 Thin Brick Mudroom Floor
Talk about the ULTIMATE mudroom transformation! We are obsessed with Michelle's beautiful and easy-to-clean thin brick floors. DIY-friendly thin brick requires the least amount of mainteance and provides the most durable, which is important for high-traffic areas! She talks about the DIY install process in a blog post, gushing about how happy she is with her thin brick floors and how durable they are in this high-traffic area.

Steal The Show With A Gorgeous Thin Brick Backsplash

Meeghan is fully obsessed with her brick backsplash and she wants everyone to know it! Her builder tried to talk her out of it but she refused to settle for less than the brick backsplash she wanted. Read Meeghan's full story on her blog to get all the details about her gorgeous brick backsplash.

Brick Backsplash Inspo

Here For Thin Brick Arches!

We couldn't be more obsessed with influencer, Jamie Montgomery's beautiful brick arch. Talk about making a statement! Her house features a stunning thin brick features inside and out for seamless design. Get inspired with ways to update your home in her blog post:
Where to Buy Thin Brick & Thin Brick Systems
Don't see a location near you? Thin brick can be shipped to you, or contact us to find a supplier near you.
Thin Brick Council
Please fill out the form below. Required fields are indicated with a * symbol. Thank you.
DIY Thin Brick Projects
Thin brick is a must for any DIYer. Thin brick are very lightweight and easy to install on walls, floors, and more. The possibilities are endless. Check out some of our favorite thin brick projects:
Thin Brick DIY Backsplash
Thin Brick DIY Floor
Thin Brick DIY Accent Wall

HGTV DIY Thin Brick Wall Installation
Thin brick makes renovations a breeze! Update your floors, walls, and evening ceilings with thin brick. Check out this video from HGTV on how to add a beautiful, thin brick focal wall to your home! With wide color and texture choices, thin brick expands your design potential for DIY projects. And because real thin brick is made from fired clay, it'll look great for a very long time!

Roth Estate Winery Cave

Learn how this winery cave was affordably transformed with thin brick.

Monticello

This Chicago student housing project uses grey thin brick in alternating thicknesses in a vertically stacked pattern to achieve a unique look.

Thin Brick Student Housing

The Jax

The Jax showcases the brilliant use of thin brick to achieve the same look and benefits of full brick.
Thin Brick in ASID Magazine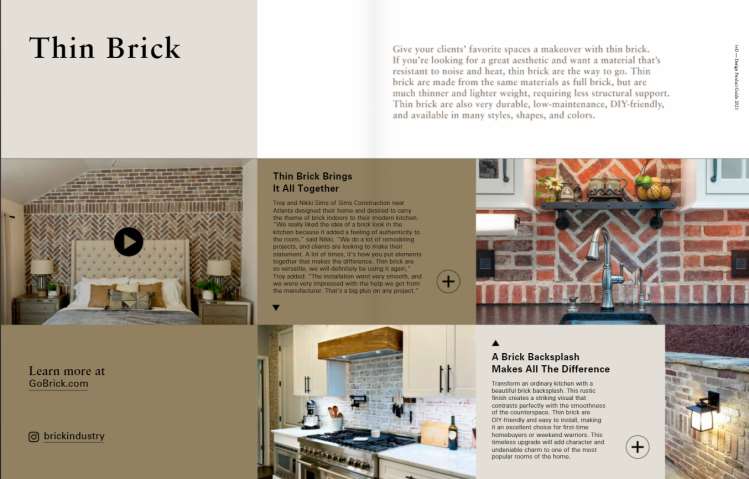 More Thin Brick Resources
Technical Notes
Learn more about design and construction information on the use of thin brick in adhered veneer systems. Methods of thin brick construction discussed include thick set, thin set, modular panels and prefabricated panels consisting of architectural precast concrete, tilt-up concrete and wood or steel stud frame panels. Properties of the finished construction and comparisons to other systems are presented.
Education
AEC Daily - The Best Source of FREE Education for the AEC Industry
This course outlines the differences between wall systems using anchored and adhered masonry veneer, with a focus on the design, materials, and installation methods of adhered brick veneer wall systems. Use of adhered veneer in interior applications is also discussed. Earn AIA & IDCEC Credits.